Covid-19 Enters College but to what Degree?
Christopher Willard

Alberta University of the Arts
Keywords:
Faculty, Covid-19, Policies, Procdures, Collective Agreements, Faculty Union, Crisis Response, Workload, Intellectual Property, Academic Freedom
Abstract
This article considers the potential long term implications of university emergency responses to Covid-19. Â While empathetic responses are important in a time of crisis, emergency measures should not necessarily entail the infringement of or the abandonment of rights articulated in existing policies, procedures, collective agreements, or contracts. Â Areas of particular vulnerability include academic freedom, faculty workload, and intellectual property rights. Â The author also suggests that crisis responses by higher education may be seen as more of an intensification of neoliberal pressures than as signaling new pressures from the pandemic alone.
References
Anderson, Drew. January 20, 2020. "Alberta post-secondary funding will be tied to performance.†CBC News.
AAUP. N.d. "Intellectual Property Issues for Faculty and Faculty Unions.†www.aaup.org/sites/default/files/intellectual_property_issues_faculty.pdf. Accessed May 27, 2020.
Brancaleone, David and O'Brien, Stephen. 2011. "Educational commodification and the (economic) sign value of learning outcomes.†British Journal of Sociology of Education. 32 (4): 501-519.
Brinkley, Alan. 2006. "Civil Liberties in Times of Crisis. Bulletin of the American Academy.†26-29. www.amacad.org/sites/default/files/media/document/2018-12/Civil%20Liberties%20in%20Times%20of%20Crisis.pdf. Accessed May 20. 2020.
CAUT. 2013. "Guidelines for the Use of Copyrighted Materialsâ€. https://d3n8a8pro7vhmx.cloudfront.net/caut/pages/2924/attachments/original/1510862882/Low-Res-Guidelines-for-use-of-copyrighted-material.pdf?1510862882. Accessed May 28, 2020.
https://assets.publishing.service.gov.uk/government/uploads/system/uploads/attachment_data/file/691383/Consultation_Principles__1_.pdf. "Consultation Principles.†2018. Accessed May 31, 2020.
Dea, Shannon. April 16, 2020. "University shutdowns bring new challenges to academic freedom.†University World News. Africa Edition.
Duszynski, Maciej. April 22, 2020. "Gig Economy: Definition, Statistics & Trends [2020 Update].†https://zety.com/blog/gig-economy-statistics?gclid=CjwKCAjw7-P1BRA2EiwAXoPWA6AHVepcAfwXw-Dc3ph2YmocX3U9yCbleIbK5KK7chnzWEv1XGFNhBoClCgQAvD_BwE. Accessed May 14, 2020.
Euben, Donna. 2020. "Faculty Rights and Responsibilities in Distance Learning. Distance Learning and Intellectual Property: Ownership and Related Faculty Rights and Responsibilities.†www.aaup.org/faculty-rights-and-responsibilities-distance-learning-2000. Accessed May 16, 2020.
Impelli, Matthew. March 10, 2020. "All the U.S. Colleges and Universities That Have Cancelled In-person Classes Over Coronavirus Outbreak.†Newsweek. www.newsweek.com/all-us-colleges-universities-that-have-canceled-person-classes-over-coronavirus-outbreak-1491538. Accessed May, 21, 2020.
Janzow, Peter. October 14, 2015. "The Rise of the 'Solo Economy' — What it Means for Workers and Credentials. Pearson, Higher Education.†www.pearsoned.com/the-rise-of-the-solo-economy-what-it-means-for-workers-and-credentials/. Accessed May 17, 2020.
Kauppinen, Ilkla. 2013. "Different Meanings of 'Knowledge as Commodity' in the Context of Higher Education.†Critical Sociology. 0(0): 1-17.
Kesher, Andrew. May 22, 2020. "At least 100 lawsuits have been filed by students seeking college refunds — and they open some thorny questions.†MarketWatch. www.marketwatch.com/story/unprecedented-lawsuits-from-students-suing-colleges-amid-the-coronavirus-outbreak-raise-3-thorny-questions-for-higher-education-2020-05-21. Accessed May 25, 2020.
Kobie, Nicole. September 14, 2018. "What is the gig economy and why is it so controversial?†Wired. www.wired.co.uk/article/what-is-the-gig-economy-meaning-definition-why-is-it-called-gig-economy. Accessed May 15, 2020.
Lee, Herbert. March 19, 2020. "Intellectual property and copyright in course materials during COVID-19 remote teaching: information and language for instructors.†Newscenter, UC Santa Cruz. https://news.ucsc.edu/2020/03/intellectual-property-and-copyright-in-course-materials-during-covid-19-remote-teaching.html. Accessed May 20, 2020.
Lederman, Doug. May 14, 2020. "In Inside Higher Ed, A Playbook for a Second-Choice Fall.†Inside Higher Ed. Accessed May 14, 2020.
Lohr, Steve. May 26, 2020. Remember the MOOCs? After near-death, they're booming. The New York Times.
Maloney, Edward and Kim, Joshua. June 12, 2019. "Intellectual Property and Digital Learning: Developing a Campus Strategy.†Inside Higher Ed.
McCoy, Rachel. March 14, 2020. "How to Worry Better.†New Scientist. 245 (3273): 23.
Murphy, Michael. May 2, 1010. "Universities beyond the coronavirus crisis — What awaits?†University World News.
O'Neill, Cathy. May 25, 2020. "Covid-19 Will Make Colleges Prove Their Worth.†Bloomberg. www.bloomberg.com/opinion/articles/2020-05-25/covid-19-will-make-colleges-prove-their-worth. Accessed May 25, 2020.
Poliakoff, Michael. April 21, 2020. "What Will COVID-19 Mean For Academic Freedom?†Forbes.
Read, Jason. 2009, "A Genealogy of Homo-Economicus: Neoliberalism and the Production of Subjectivity.†Foucault Studies. 6: 25-36.
Steezy.co. 2020. reddit.com. Accessed May 27, 2020.
Rosenberg, Brian. April 10, 2020. "Will the cornovirus kill liberal arts colleges?†Times Higher Education.
Saunders, Daniel and Blanco Ramírez, Gerardo. November 16, 2016. "Against 'teaching excellence': ideology, commodification, and enabling the neoliberalization of postsecondary education.†Teaching in Higher Education. 22:(4): 396-407.
u/Superfluous. May 22, 2020. Reddit, r/professors. www.reddit.com/r/Professors/comments/gol86x weve_been_told_to_prep_our_fall_courses_to_be/. Accessed May 22, 2020.
Vézina, Brigitte and Green, Cable. March 31, 2020. "Education in Times of Crisis and Beyond: Maximizing Copyright Flexibilities.†Creative Commons. https://creativecommons.org/2020/03/31/education-in-times-of-crisis-and-beyond-maximizing-copyright-flexibilities/. Accessed May 22, 2020.
Wells, Madeline. March 24, 2020. San Francisco Art Institute likely to close due to coronavirus impact. SFGate.
Zimmerman, Jonathan. March 15, 2020. "Coronavirus and the Great Online-Learning Experiment.†Chronicle of Higher Education. 66:25: 10.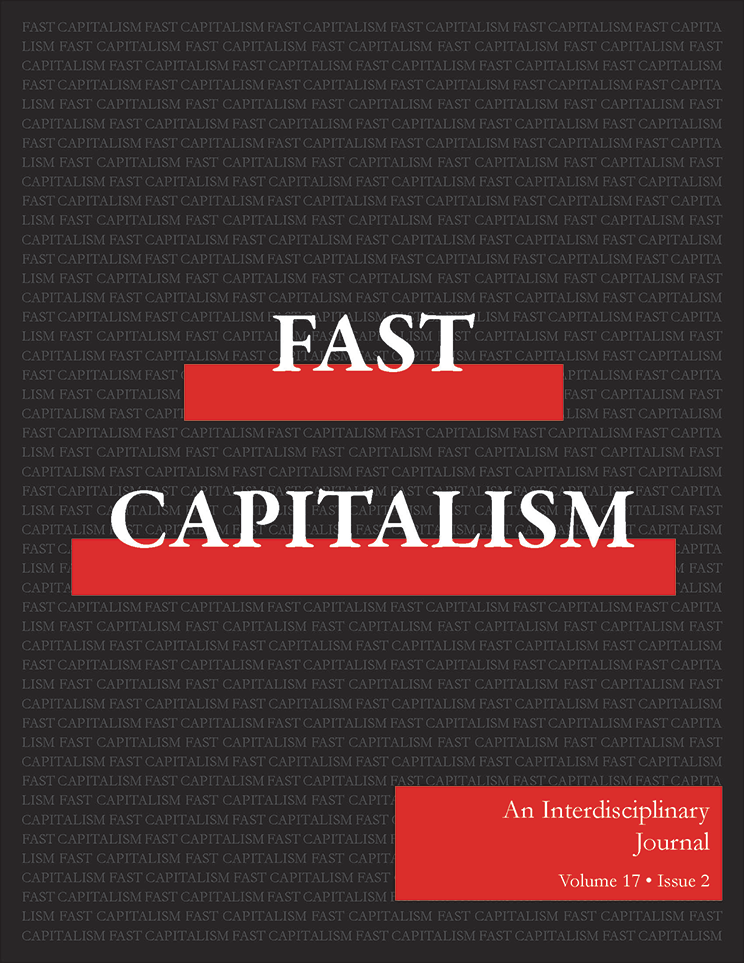 Section
Special Section on Capitalism, Coronavirus, and Crushing College as We Know It
Copyright (c) 2020 Christopher Willard
This work is licensed under a Creative Commons Attribution 4.0 International License.
Authors of papers published in Fast Capitalism hold copyright to their work. Requests for permission to reprint should be directed to the author.

Fast Capitalism is licensed under a Creative Commons Attribution 4.0 International License.